I was watching the 2010 World Cup soccer match between Germany and Australia on television and was terribly distracted by this buzzing noise, like some 10, 000 bees. I had to mute the set, turn on closed captioning and suffer a time delay in the commentary. I had begun to think the noise was in my head. I couldn't see any organized kazoo blowing among the spectators, but turns out I was not looking for vuvuzelas.
The vuvuzela
, which is made to replicate the call of an elephant, comes across as a drone on television. In real life, though, the noise reaches 144 decibels, equivalent to the sound made by a passenger jet.
Because the vuvuzelas create a wall of sound
, there has been little of the usual chanting, singing and roaring that are a staple of soccer games everywhere else in the world. TV viewers are getting increasingly annoyed and want them banned. However, FIFA President Sepp Blatter refuses to play ball, so to speak.
"I have always said
that Africa has a different rhythm, a different sound," Blatter said in a Twitter post. "I don't see banning the music traditions of fans in their own country." So that's that.
Fans in South Africa seem to be having a great time!
Everybody
here has the vuvu.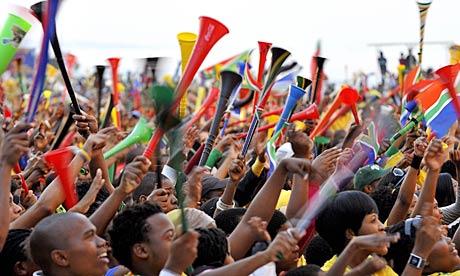 http://static.guim.co.uk/sys-images/Guardian/Pix/pictures/2010/6/11/1276279824678/World-Cup-2010-spectators-006.jpg